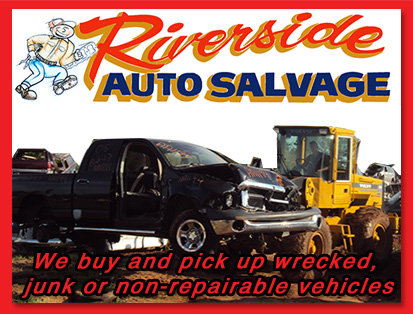 Riverside Auto & Truck Salvage
takes pride in offering quality used auto parts.  Parts are considered to be in good working condition and will be replaced, repaired or purchase price refunded
(if another part is not in stock)
if parts are found to be defective within 90 days of invoice date.
Terms of Sale
All sales are final
If within 90 days of purchase a mechanical part proves to be defective, seller will, within a reasonable period of time replace the part.
Seller is not responsible for or liable for any incidental or consequential loss or damages
No warranty or reimbursement on labor costs
No cash refunds if another part is available and in stock
No warranty on seals, gaskets, fluids or coolants
Any refunds will be made by company check
All glass, sheet metal and body parts are sold as is
Incomplete cores are not acceptable for core refunds
Damaged or altered parts are not refundable or warranted
Original invoice must accompany any warranted part, no refunds without the original invoice.  KEEP YOUR RECEIPT!
Overheating voids all warranties
Not responsible for buyers errors
25% restocking fee if seller allows a non warranty return.  Buyer is responsible for determining suitability and condition for purchase intended.
$25.00 charge on returned checks
Buyer agrees to pay all fees and costs associated with collection of overdue balances
No warranty on electrical parts
Engine Warranty
Warranty on engines pertains to the block and head assembly.  No warranty on seals, gaskets, pumps or timing components.  Warranty covers knocks, smoke and excessive oil burn (more than 2 quarts per 3000 miles).  Warranty is void if over heating or abuse has occurred. 
Sellers Descretion.
Labor Warranty
Riverside Auto & Truck Salvage or any representative will not be liable for any labor costs of a defective part.  Parts are used and can have defects not for seen by this company.
No Cash Refunds
on parts in stock.  A store credit is available to customers who prefer in store credit as opposed to another part.
Transmission Warranty
Improper installation voids all warranties
Proof of qualified mechanic and automotive standard procedures are required for warranty
It is recommended buyer replace front seal prior to install
Improper adjustment, low fluid levels, burnt fluids and broken pumps void all warranties
All cores be drained of fluids and returned within 10 working days for core refunds